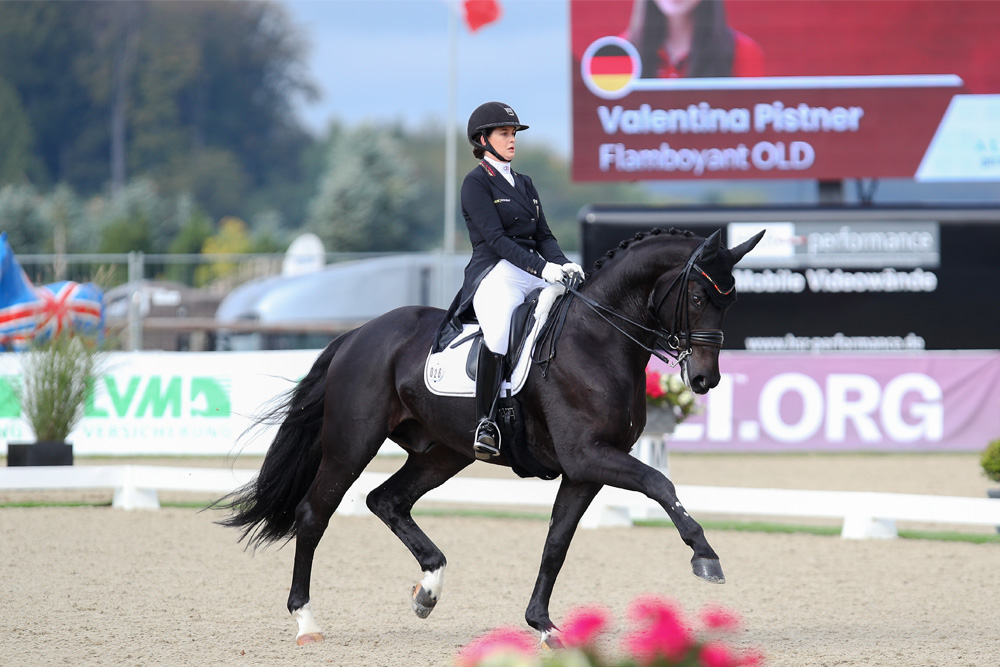 30 Sep

Perfect finish to the September CDI
Isabell Werth and DSP Quantaz win the Grand Prix Special
The presentation rugs for the last outdoor CDI of this season at Hof Kasselmann have been awarded, national anthems have been played and winners and placegetters will happily go home after four exciting days of top-class dressage, new personal bests and some very successful debuts. 
The level of the Grand Prix Special, presented by LVM Versicherung, was outstanding, with 15 riders delivering top performances. Isabell Werth and the Quaterback stallion DSP Quantaz cracked the magical 80% mark to secure the victory. The combination was able to improve in confidence from their Grand Prix test on Friday and showed a light-footed, elastic round with wonderful piaffe, which again received the highest scores, this time from Marietta Almasy at H and Katrina Wüst at B. "I am of course very happy. Quantaz showed two very good tests with few mistakes. After Balve it was only a short turnaround, but he did it really well and with almost 80 percent and over 80 percent, it's a very, very satisfying. He's a great horse," praised Werth. Jessica von Bredow-Werndl and Zaire-E showed a great final centreline, in the end it was 78.191% and second place for the pair. Young British rider Charlotte Fry and her partner from U25 championship days, Dark Legend showed a strong, precise test for third place on 77.085%. The minor placings were taken by the Finn Henri Ruoste with his 10-year-old Kontestro DB, just ahead of squad rider Frederic Wandres and Duke of Britain. For the latter it was another personal best result in the Grand Prix Special. 
CDI J Freestyle presented by Ostfriesische Industriedienstleistung GmbH 
In the young rider tour there was no getting past Valentina Pistner and Flamboyant OLD (Fidertanz x De Niro) this weekend. They received 79.575% for their freestyle today — a new personal best for the Gold medal winners of the freestyle at the 2020 European Youth Championships! In second place, just like on the two previous days, was the Danish rider Laura Gotteberg Brandt Jakobsen on her Don Schufro son Romio Hoejris with 76.790%. Philippa Hodes and Barolo M (Bordeaux x Rough Diamond) renewed their subscription for third place with 75.460%.
CDI YR Freestyle presented by the Equestrian Brands Covalliero und Bucas Ireland 
The top six combinations of the individual young rider event qualified for the freestyle today. 19-year-old Luca Sophia Collin and her Desperados son Descolari were able to continue their winning streak. Again everything came together for the elegant pair, who were last to go into the arena but came out on top winning the freestyle with 77.725%. Theresa Friesdorf and Quotenkönig by Quaterback delivered another very good performance, and for the third consecutive time they finished in second place, 74.940%. After coming fifth in the first two events of the young riders tour, Emely van Loon and FBW Despereaux (Don Diamond x Abanos) were able to jump on the podium today with 74.640%.
ADC Amateur Cup Final, presented by R.S.C. Osnabrücker Land
Eight talented amateurs competed in the St. Georg Freestyle, which was also the last event of the day. Felicitas Hendricks, representing the RSC Osnabrücker Land e.V., won the ADC Amateur Cup Final with her Oldenburg gelding Drombusch (Destano x Dimaggio). Newly inspired by receiving her Golden Rider Badge, Hendricks showed a beautiful freestyle to the music of Beautiful Day and Bittersweet Symphony, which was rewarded with 73.708%. In second place with 71.792% was the Japanese  rider Maria Takada with Britania (RFV Soest-Bad Sassendorf eV); Alexandra Heyen (RuFV Saterland u.Umgeb.e.V.) with Ronjon and Nele Lillian Terstegge on Diego Diaz both received 69.750% to place in equal third.
The organisers of Horses and Dreams Entertainment GmbH are exhausted but delighted to have been able to host another international event for both up and coming and senior riders in these difficult times. Now it's time for the indoor season at the P.S.I. Sports and Auction Centre in Ankum, with the next two shows, the first and second event of the autumn season — September 30-October 4 and October 13-18 — only days away.
All results here.